Free Printable What was Mommy Wearing Baby Shower Game
This game will test and challenge the power of observation of your Baby Shower party guests. I have prepared free printable what was mommy wearing Baby Shower game cards in three colors to suit your Baby Shower party needs. You can use blue game cards for boy Baby Shower, pink for the girl Baby Shower and yellow game cards if you do not know or do not want to disclose gender of the baby.
How to Play: In the middle of Baby Shower gaming session ask mom-to-be to leave the room for a while and distribute what was mommy wearing game cards among your Baby Shower party guests along with a pen or pencil for each guest. They have to fill in the blanks and answer all the questions mentioned on the game card. Then ask mom-to-be to come back to the room again. Check all the answers and the person with most correct answers will be the winner.
Free Printable What was Mommy Wearing game in Blue Color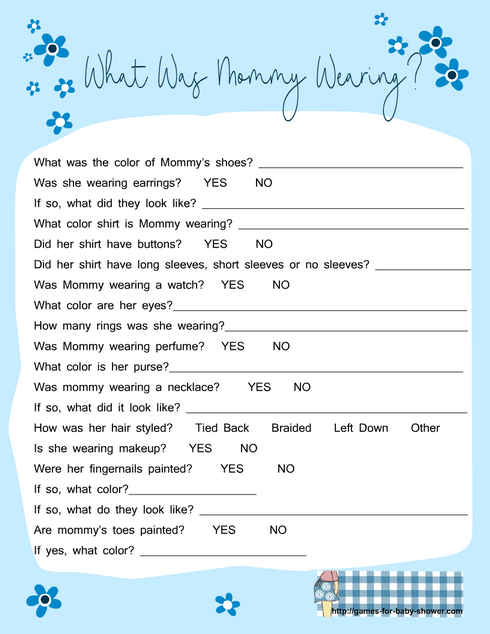 To save this game just click on the image above and it will open the printable image. Right click and save that image to your computer. This game is perfect to be printed in blue color, if you are throwing a boy Baby Shower.
---
What was Mommy wearing Baby Shower Game printable in Pink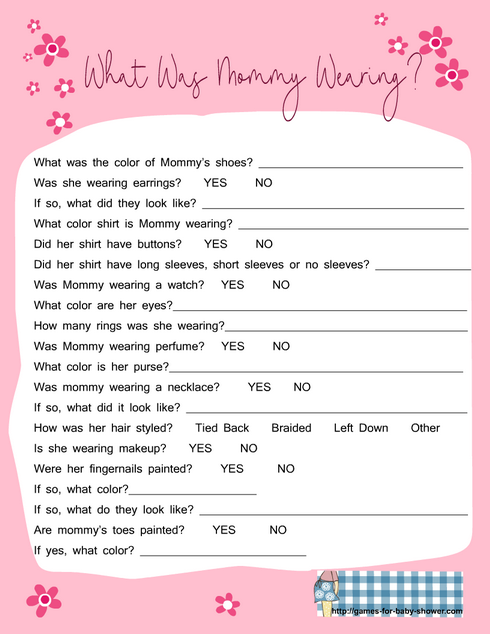 For a girl Baby Shower save this image in pink color and print it one or two days prior to your Baby Shower party. Follow the same method to save this pink image that I have mentioned to save blue printable image for this game.
What was mommy wearing printable game in Yellow Color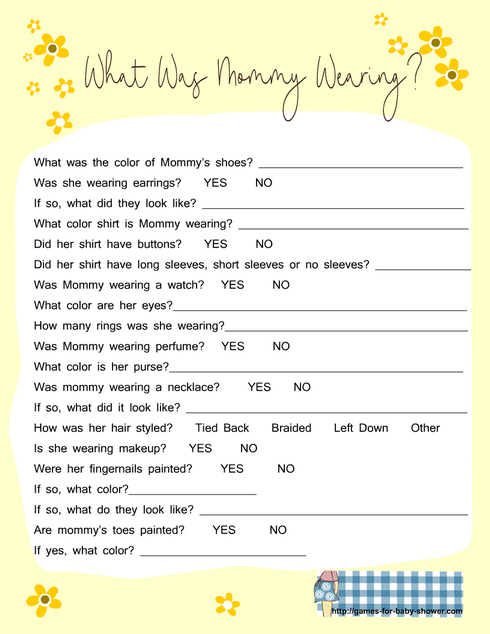 Here is a gender neutral free printable version of what was mommy wearing game in yellow color. You can also use this image for both boy and girl Baby Showers if it matches your theme more.
---