Free Printable Baby Shower Crossword Puzzle Game
Crossword puzzle is a classic game and I have prepared this free printable Baby Shower crossword puzzle game with clues about baby and baby related items. Baby Shower party guests can play this game individually or in teams. Print this puzzle in any color of your choice according to the number of your Baby Shower party guests a day prior to your Baby Shower.
How to Play: Distribute the puzzle game and pens among your Baby Shower party guests and ask them to finish it within five minutes time. The person with most correct answers will win. Click here to get the printable sheet with the puzzle solution.
Baby Shower Crossword Puzzle Game in Pink Color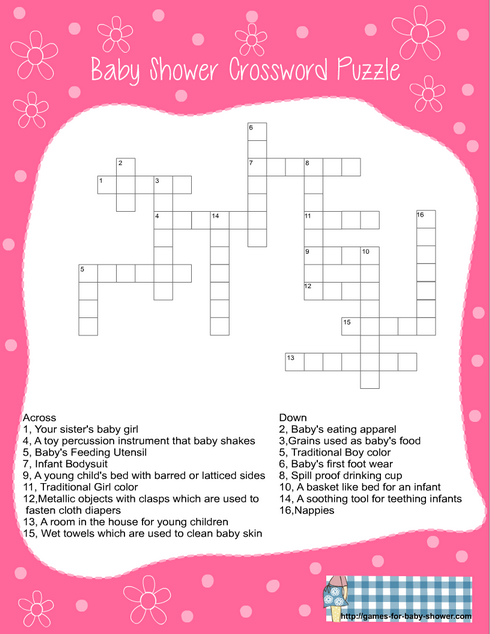 If you are having a girl Baby Shower then you will surely like to use this crossword puzzle game that I have prepared in pink color. To get this image in larger size just click on the image above and save the bigger version in your computer by right clicking and saving it. You can add lots of fun to your Baby Shower party with this game in the cost of just printer ink and paper.
---
Baby Shower Crossword Puzzle printable in Blue for Boy Shower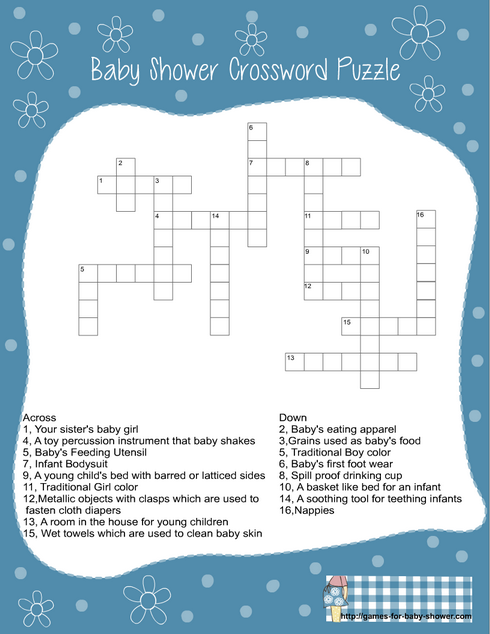 For boy Baby Shower party you can save and print this free printable crossword puzzle game in blue color. Just click on this blue image and save the bigger image in your computer for printing later.
Free Printable Baby Shower Crossword Puzzle Game in Brown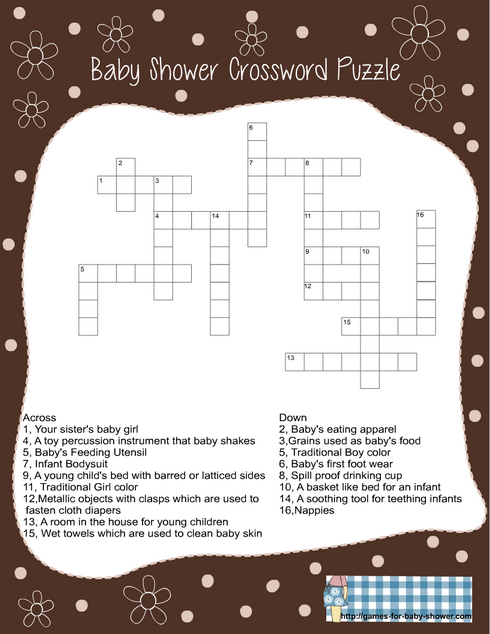 If you do not know gender of the baby or do not want to disclose it to anyone then you can use this gender neutral game printable in brown color. Guests will have to guess baby related words and it will be a lot of fun.
---