Free Printable Baby Food Scramble Game for Baby Shower
Here is another very interesting game for a group of people who like to play game while remaining seated. Moms in your Baby Shower party are supposed to win this game more easily as they have to unscramble baby food names. I have made really cute free printable baby food scramble game for Baby Shower party in three colors so you can easily play this game on girl or boy Baby Showers and even when you do not know or do not want to disclose gender of the baby.
How to play:Distribute Baby Shower food scramble game cards amog your Baby Shower party guests along with a pen or pencil. Ask your Baby Shower party guests to unscramble all the food names with in five minutes of time. The person with most correct answers will win. Here are the unscrambled baby food names so you can check their answers.
Baby Food Scramble Game printable in blue Color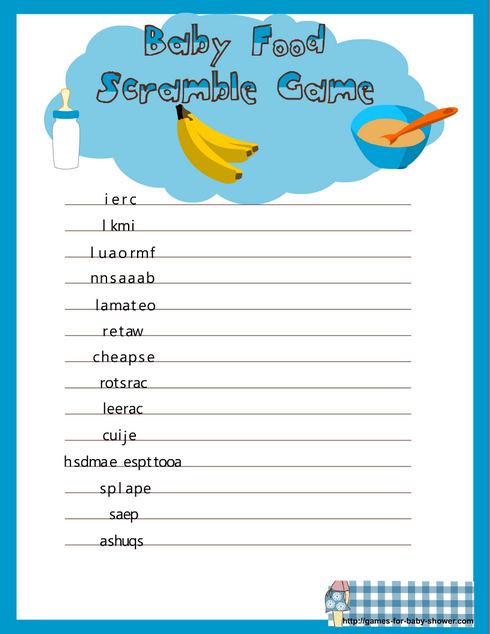 Print this very interesting food scramble game in blue color after clicking on the image shared above and saving the bigger image in your computer. Blue version of this game is perfect if you are holding a boy Baby Shower and this printable will go well with any Baby Shower theme.
---
Free Printable Baby Food Scramble Game in Pink Color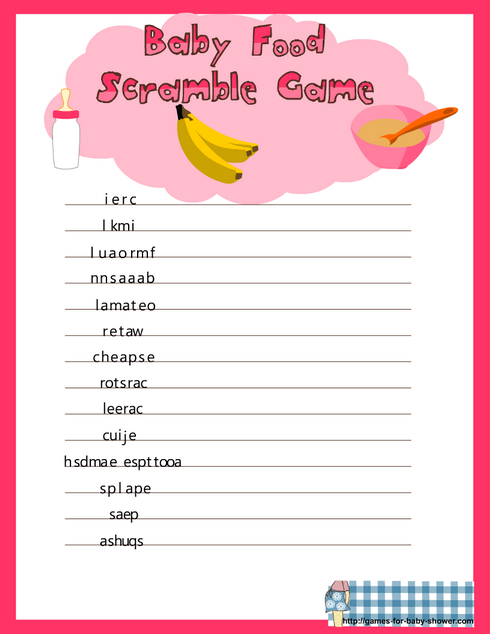 If you are having a girl Baby Shower then you would like to use this printable game in pink color. Click on the image given above and save the bigger image in your computer. If you print this game on card stock then it will give an entirely different effect and feel.
Baby Shower Baby Food Scramble Game Printable in Green Color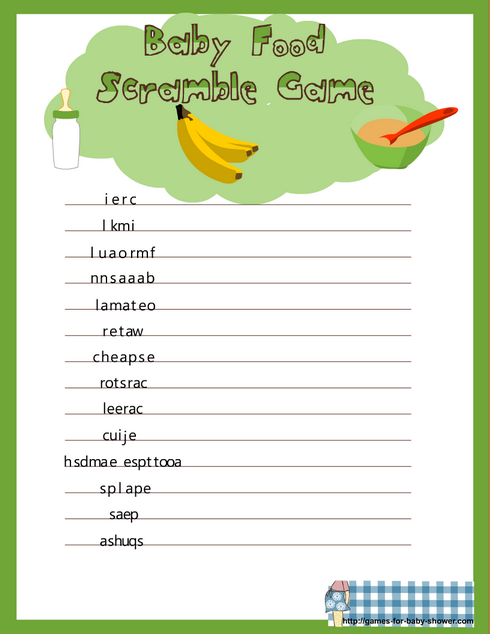 For a gender neutral Baby Shower party I have prepared baby food scramble game in green color. You can use it on either boy or girl Baby Shower party. To save this image use the same method as mentioned above.
---