Welcome to Games-for-baby-Shower.com . I have created 76 Free Printable baby Shower Games that are Fun and Exciting including classic and new games that you can download for free and print on your home computers for your Baby Shower Party.
There are many printable Baby Shower games available on the internet but those which are free are not good in quality and ones that are good in quality are really expensive so I have tried to provide fun and exciting free printable Baby Shower games decorated with cute images of high quality. I have made many classic game printables such as Baby Shower bingo, word scramble, nursery rhyme game etc. and many new games like what's in your purse.
I have made all the games in blue color for your boy Baby Shower party, in pink color for girl Baby Shower and also in many gender-neutral colors like yellow, orange, green and brown so you can enjoy these games even if you do not know or do not want to disclose the gender of the baby.
These games will make your Baby Shower party fun and memorable for all of your party guests. I have also made some free printable Baby Shower stationery designs in different colors and floral designs to suit your party needs and you can play games which are not provided on this website with your party guests using that adorable printable stationery.
---
---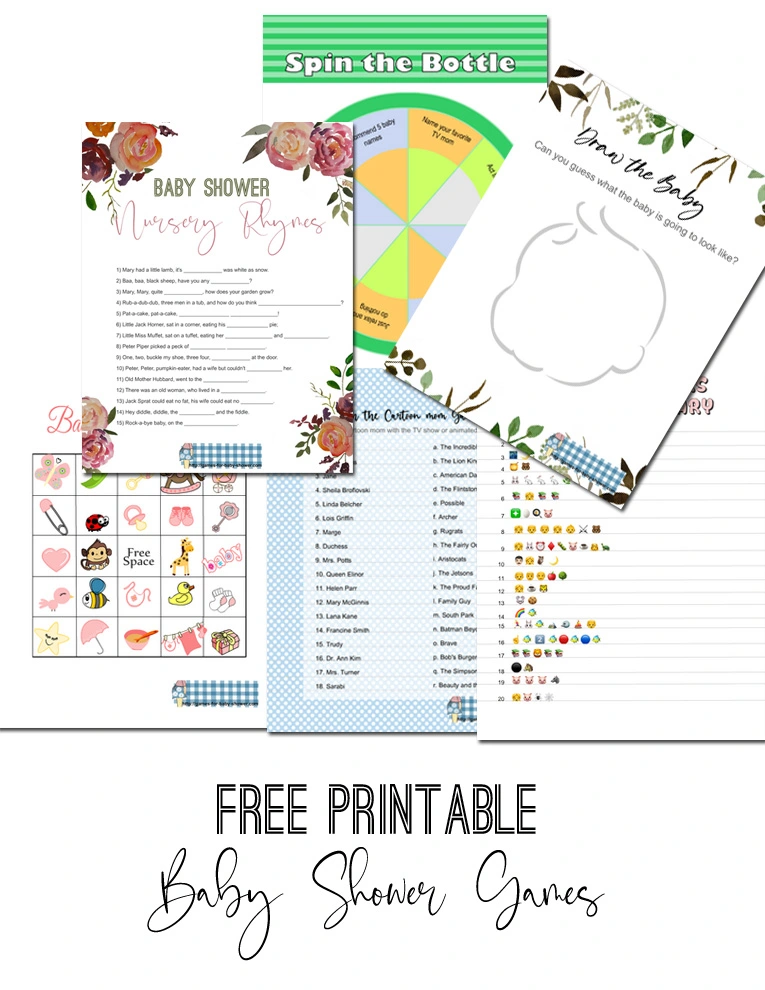 76 Free Printable Baby Shower Games
Here is the list of 76 Free Printable baby Shower Games that are Fun and Exciting. I am providing on this website. To save any of the game go to that game's page. Click on the smaller game image in color of your choice and you will see the bigger image. Simply right click and save that to your computer.
Baby Shower Bingo

I am sharing Free Printable Baby Shower Picture Bingo Game in four different colors. I have made ten different bingo cards in each color and one caller's checklist. I have enclosed the bingo cards in a safe to use zip file and you can download it without any fear.

Baby Shower Word Games

Popular and Classic Baby Shower Games

To win this game, the baby shower party guests have to write names of baby items within a specified time limit. The person who writes down the highest number of baby items wins.

Icebreaker Games for Baby Shower

Pictionary Quizzes

Challenge Games

In this game, he guests will have to write the names of all the songs with the word 'baby' in the title.

Quizzes and Match-up Games

A quiz about some fun facts related to babies and pregnancy across the globe.

Advice and Wishing Games for Baby Shower

Funny Games

Baby Shower Mad Libs

Modern and New Games
---